You never know what to expect when you see a sale advertised.  So last week when I read  in Lisa's Urban Farmhouse post that there was a sale being held at her friend's barn up in Granville, I figured we'd take a chance and drive out to see what we could find.  Mr. S and I are always open for an adventure. Besides, it was our day off and we had nothing better to do.  (okay, we did, but we decided that we could put away all the outdoor furniture another day.  Besides, it was dreary and cold outside and we didn't want to freeze our little tootsies or pinkies)  Little did we know that we'd be doing just that inside an old  barn located two hours northeast of us.
                                                  photo from Urban Farmhouse
We'd never been up in this area of Ohio before, and let me tell you, Granville is a really cute little college town.  The sale was located just outside of downtown, at the home of Kimberly Thompson, a very gregarious and fun gal. She and her two siblings, Andrea and Wes, were holding the sale in her barn, and the place was filled with lots of other family members who seemed to be involved in the sale in one way or the other.  Although Kim didn't really want to have her picture taken, I do have few shots of  some of the relatives.
November days always seem to have a bite to them, so this fire outside the barn was a good place to warm the old bod! This guy tended the fire vigilantly.
This is Kim's mom, but I don't know who her riding companion was.  She was wearing the most amazing fur hat and she offered me some tips on how to make one.  I think I see a project coming, using my old parka hood.
Kim's dad was the official greeter and was also in charge of directing traffic. He wanted to show us of one of the barn's back rooms, but Kim nixed that idea. I think he got into trouble for offering to take us on a tour of what Kim was calling a really disorganized room!   He was a real hoot and had some great stories to tell us.  
We met so many of Kim's relatives, all of whom made us feel so welcome. They offered us hot coffee, cookies, pumpkin rolls, and at lunchtime- some homemade chicken tortilla soup made by Kim's mom!  Yum….
But now on to the nitty gritty.   As I said, we didn't know what to expect before we walked into the barn. But we were excited and surprised to see that the space held so much of what we both like- Industrial!!!
This is the first item we saw as we walked through the barn doors. Kim related that her dad had found this in an old factory and cleaned up all the grime and grease. Couldn't you see this as a kitchen island or as a a place to set a big screen television?   It had a price tag of $695 on it, but WOW-  was it an amazing piece!
What a cool old factory cart.
This cupboard was in really good condition.
I loved this old blue porch swing.  Sure wish I had a front porch, or even a back porch, for that matter. 
Look at the Burma Shave sign and all the old Ohio license plates. The barn was filled with lots of buckets and ladders.
This work table held metal containers of some sort. I liked the metal hangers and bought some- 5/$2.00.  They're headed to the potting bench in the laundry room.
These green carts were amazing. Kim placed metal baskets on all the shelves for display.
Old wooden table and metal file sorter.
Oh did this catch my eye!!!  It is similar to the factory cart that I found at the High Point Furniture Market last month.  It almost came home with us, but after discerning that it was a lot bigger than the carts we ordered, we left it for someone else to buy. But what a bargain at only $295.  Check out the compass rose pillow, the metal bins, and the vintage bulb drawer that is similar to the ones I bought last month.  So much to see!
These totes were fashioned from vintage seed sacks.
Slate tags from a roof off an old barn were hand cut by Kim's brother, Wes.  Check out how Kim used them to tie onto bottle bags that were fashioned from old burlap seed bags. Wouldn't that make a fun way to tie up a gift of wine?  I bought several of the tags and I think I'm cutting up some Purina brand feed bags that I found back in the spring. 
This old adding machine sat on top of  a metal factory table. My grandfather used to have an adding machine similar to this that he used in the family business back in the 50's and 60's. I used to think it was so much fun to hear the sounds it made when I pulled the handle to add up all the figures. 
Mr. S wanted me to buy one of these metal containers. He thought I should pile my hedge apples into them, but I told him I had too many drawers, boxes, and containers as it is!  I think he was a little disappointed that I didn't get one.  The wood table/cart in the background was huge and would have made for a nice worktable.
This lobster trap came home with us, along with three colorful buoys.  I think it's going into one of the guest bedrooms for now.   Or it might become an end table. Not sure, yet.
Mr. S discovered this huge restaurant pizza paddle and thought it would be a nice way to serve a home-baked pizza.  Was that a hint, I wonder?  Personally, I think I'd like to use it to spread out some soft polenta and have our guests scoop it up and then add their toppings. I've been wanting to have a polenta party ever since I saw Michael Chiarello do it one of his Food Network shows.
photo from Food Network
I thought this trio of bread pans could be used in a holiday table vignette- I can already see them filled with berries, potpourri,  holly, evergreens, and maybe some of that faux snow I like to make.
It's nice to have a companion that's interested in thrift shopping and antiquing and is always ready to take off on an adventure with me. We'll  be heading back up to Marysville for another sale  at French Hen Farm during the first week of December and I know he'll want to hit a few holiday open houses this month.  But first, I think we'd better get that outdoor furniture put away before the first snow!
Linked to: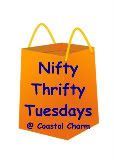 Barn Chick Party