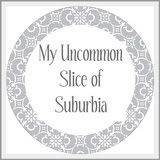 click on button for link
Kristin at My Uncommon Slice of Suburbia is hosting a linky party to show off her newly finished front door. 
Since our front entryway landscaping is under construction at this time, I opted to show you what the door looked like last fall.  Apologies for the re-run to those of you may have already seen it…. 
I love the oval glass opening and the brass caming on our garnet colored door; it lets so much light into the foyer. Since neither Mr. Sullivan nor I are talented house/door painters, we opted for a factory painted finish when we purchased the new entryway five years ago. There are no brush strokes to mar the smooth finish of the surface.  Heaven help us if we decide to change door colors anytime in the future!
I filled a basket with  a variety of faux fall flowers- hydrangeas, sunflowers, chrysanthemums, and cat tails.  The colors really pop against  the background of the door.
Kristin mentioned in her post that she had painted her door hardware with Oil Rubbed Bronze paint. Hmmm… Wish I had thought of doing that before I went out and bought a new lockset last week. I guess I could always try painting the existing one to see how it turns out. I'd certainly be saving a fair amount of money that way.
My metal dragonfly cloche was filled with an assortment of dried leaves and fruits and accented the bottom of the table with larger dried gourds. 
~~~~~
I'm hoping the landscaping work will be done soon. I've had to hire someone new to do the work that was originally planned. I had been waiting over two weeks trying to deal with  a landscape contractor who never followed through on his work. Why, in these trying economic times when people say that they need work, don't they just finish the job they started?
  I have a good feeling about the guy that will be doing the work now. "They" say things always work out for the best…