We just returned from Milwaukee, where we had the pleasure of witnessing the wedding of our niece and god-child, Annie Sullivan.
The happy couple, Annie and John Bulfin.
It was a beautiful wedding, held in an old church affiliated with the parish school where Annie was a counselor.
The rain began during Mass, but the wedding party traipsed under umbrellas to Marquette's Joan of Arc Chapel for photos. Those sure are  stylish rain boots under Annie's raised gown!
We stayed at the historic Phister Hotel, site of  the wedding reception.  This picture, from the hotel's website, shows the ballroom where the reception was held.  Check out the ornate ceiling and the chandeliers. 
Our table was the rowdiest at the reception and for once, it was not my fault!  Our nephew's girlfriend kind of got us going and we toasted ourselves over and over again.  But since I'm usually (okay- ALWAYS) the one who instigates the singing, laughing, and just nuttiness in general, I got blamed!  Cindy doesn't look at all like the trouble-maker she was, does she? 
Always one to love my desserts, I just had to check out the cake before it was cut.
Since we drove to the wedding, I was able to bring home one of the floral centerpieces from the reception.  It is now gracing the foyer table and  making the room smell really sweet.
~~~~~
I'm so glad that we were able to travel to Milwaukee to celebrate Annie's wedding. It was Mr. Sullivan's goal to be able to dance at the reception, and although he is still walks with a limp and can't fully bend his knee, he still cut quite the rug on the dance floor Friday night!  He's still working really hard to exercise his knee in order to achieve more flexion.  With his determination and the help of our brother-in-law, Steve, and my girlfriend, Phyllis, I think he'll make a lot of progress.
~~~~~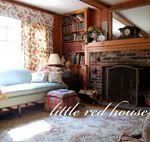 I'm linking with Mary at Little Red House for Mosaic Monday. I'm still very new at creating mosaics and haven't done much experimenting, but I hope you've enjoyed seeing the floral centerpiece from the wedding.